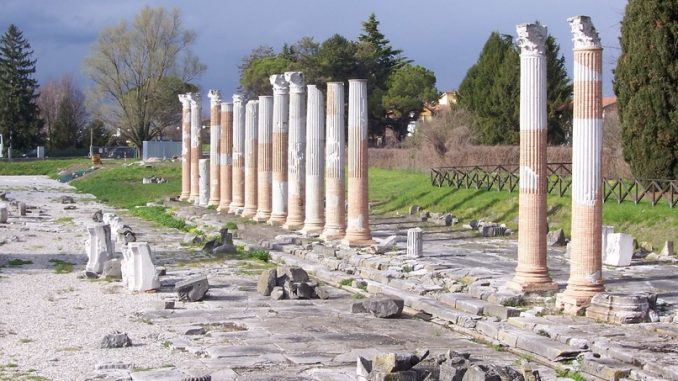 AQUILEIA, A VERY OLD AND CHARMING TOWN
A UNESCO WORLD HERITAGE SITE NOT TO BE MISSED
Aquileia, with its immense archaeological heritage, above all the patriarchal Basilica, it has been included  in the UNESCO World Heritage List. Aquileia was one of the greatest and richiest cities during the Roman Empire. Seat of the Patriarchy until 1751, it was one of the main Christianity European centres during the Middle Ages.
OTHER EVENTS IN THE AREA
ONE OF THE MOST BEAUTIFUL ITALIA VILLAGES:  GRADISCA (GO).
Near Aquileia lies the lovely village of Gradisca. This hamlet has a rich artistic heritage, coming especially from 4 periods: the Venetian '400, the Austrian '600 , the Asburgic '800 and the Italian '900. The Venetian Republic used this little  town as a bastion against Turkish raids.
PLACES
FRIULI VENEZIA GIULIA, AQUILEIA (UD)
INFORMATION AND RESERVATIONS
Lisa Martini
Tel. +378 0549 975 300
e-mail: lisa.martini@podiumnetwork.com
skype: lisa.martini_podium
[gmw_single_location map="1″ map_width="100%" map_height="300px" additional_info="0″ directions="0″ ]