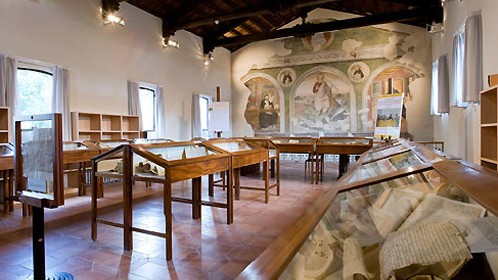 THE ANCIENT ART OF HANDMADE PAPER
A GUIDED TOUR TO THE FABRIANO PAPER MUSEUM
The beautiful town of Fabriano is included on the Unesco World heritage list since  2013. This designation is mainly due to the historical tradition of the handmade paper, which dates back to the medieval period. The city has inaugurated the "museo della carta e della filigrana" (museum of paper and watermark), in 1984. Inside you can admire old watermarked  sheets, and you can get the whole history of paper, coming from the Far East to Europe.
OTHER EVENTS IN THE AREA
THE FONTE AVELLANA BENEDICTINE MONASTERY (AN).
If you are in search of some enchanting places, evoking calm and spirituality, you must visit this abbey. Its origins go back to the X century, and are linked to the Camaldolese congregation. This hermitage was mentioned in Dante's Divine Comedy, namely in the XXI Paradise's canto.
PLACES
MARCHE, FABRIANO, ANCONA
INFORMATION AND RESERVATIONS
Silvia Simone
Tel. +378 0549 975 300
e-mail: silvia.simone@podiumnetwork.com
skype: silvia.simone_podium
[gmw_single_location map="1″ map_width="100%" map_height="300px" additional_info="0″ directions="0″ ]