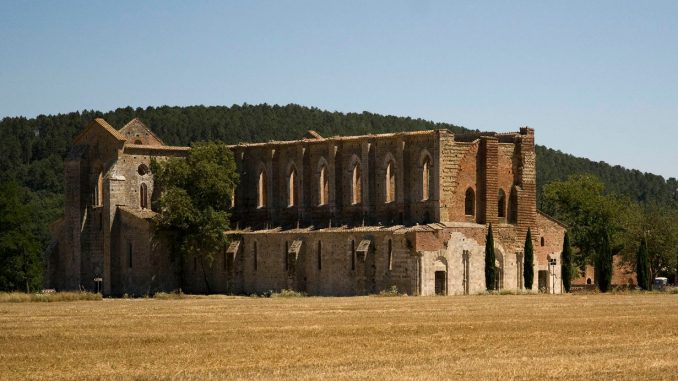 THE SWORD IN THE STONE
A LEGEND THAT COMES TRUE IN THE ABBEY OF SAN GALGANO
The St. Galgano abbey is a Cistercian/Trappist monastery, and it goes back to the XII century. It's located near the village of Chiusdino, in Siena province. This holy site is also famous for having the "Sword in the Rock". This sword in the stone was placed in 1180 by Galgano Guidotti on Montesiepi's Hermitage.
Along with the Abbey there is also remarkable Dome. It's formed by sectors of white stones that alternate with sectors of red bricks. It recalls the Roman-Etruscan graves of Cerveteri or Vetulonia.
OTHER EVENTS IN THE AREA
THE MOST BEAUTIFUL ITALIAN VILLAGES: SOVANA (GR).
The origins of Sovana are very old, it dates back to the  VIII century BC. In this village you have plenty of remarkable monuments and vestiges to visit, among them the magnificent Duomo, of the VIII century, the medieval city walls, and the Bishops palace whose origins are from the VII century.
PLACES
TUSCANY, SIENA
INFORMATION AND RESERVATIONS
Mara Corbelli
Tel. +378 0549 975 300
e-mail: mara.corbelli@podiumnetwork.com
skype: mara.corbelli_podium
[gmw_single_location map="1″ map_width="100%" map_height="300px" additional_info="0″ directions="0″ ]